"Our vocation is to push the limits of technical progress and move towards an industry 4.0! We work daily on the improvement and development of medical devices to facilitate the work of caregivers and the treatment of patients.
Denis PAPIN, Director of Surgiris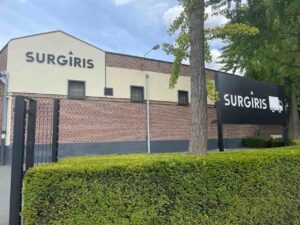 Founded more than 20 years ago, Surgiris helps hospitals, private clinics and health establishments to equip their operating theatres, intensive care units, resuscitation rooms and emergency boxes. Since 2001, the main players in the health sector, such as biomedical engineers, IBODEs and surgeons, have trusted us.
At SURGIRIS, we have chosen a French know-how dedicated to the design, manufacture and production of Made In France products in order to offer high performance and innovative products that meet the expectations and requirements of the healthcare sector. This expertise has enabled SURGIRIS to become the leader in the French surgical lighting market, in public hospitals, and to extend the sale of its products to the international market through our distributors around the world.
Today, the selection of Surgiris products has expanded, and we are pleased to be able to offer you four
product ranges

:
The light that illuminates – Operating & examination lights for the operating theatre & intensive care unit
The light that heals – Dynamic phototherapy lighting for dermatological treatments
Operating Theatre Solutions – Ceiling & column lights for operating theatres and intensive care units
Video solutions – Connected software for broadcasting and recording images and videos in the operating theatre, marketed under the ICN METRIS brand
The Surgiris team has a common goal : to offer innovative and efficient solutions, but also to share our expertise in the service of our customers,
Today we proudly adopt

new values ;
♦ INTELLIGENT TECHNOLOGY : Innovation drives us every day, internally we have our design office in which our experts develop unique technologies every day in order to offer you solutions adapted to your projects.
♦ EXPERTISE : The Surgiris team is made up of many employees who bring together the best qualifications, each in their own field, from user advice to technology and customer service.
♦ CUSTOMER SERVICE : At Surgiris, we do not have a call centre, each of your requests is immediately handled by our in-house customer service department, our service ensures the best technical expertise for the follow-up, maintenance and support of your projects. This support is reinforced by our network of partners, trained and approved by us and deployed throughout the world.
Innovation, customer satisfaction and quality are at the heart of our strategy. Each year SURGIRIS invests 15% of its turnover in research and development. Our R&D engineers have developed and designed exclusive patents and unique technologies to optimise the use and comfort of our surgical lights, but also to meet the requirements of the operating theatre.
In 2021, we have opted for a new identity "Smart Vision". We are aware that this renewal characterises the state of mind of the House of SURGIRIS, which is focused on R&D, new technologies and the search for new concepts, always evolving with the times.